The Faster You Render,
The Better Your UX
 Keep users focused on your content instead of on their wait time.
Google loves a good PageSpeed—but JavaScript-heavy websites often struggle to deliver. Adding images, custom fonts, and other page elements to the equation can easily exceed the optimum page load time threshold, costing you customers and revenue.
Load Your Pages in Seconds
Higher PageSpeed Scores Gives You the Upper Hand
A slow website is bad for Core Web Vital (CWV) and PageSpeed scores. 
(This, in turn, leads to a poor user experience (UX) and high bounce rates.)
A recent Google study suggests that when a page load time goes from 1 to 3 seconds, the visitor bounce rate increases by 32%. And when it goes up to 5 seconds, the bounce rate rises to 90%. By improving your PageSpeed, you will reduce bounce rates, boost rankings and provide a better user experience.
Serving 100% Cached Versions
Improved Visibility and Rankings in Days
JavaScript-heavy pages that use Prerender load in an average of 0.05 seconds, while those that don't take 5.2 seconds—that's a 104x PageSpeed increase! Our technical SEO solution is designed to fully cache your pages, feeding the HTML version to search engine bots in a fraction of the time. 
Get on Track to Better UX!
Impress users and Google with fast loading time. 
Get started with 1,000 URLs free.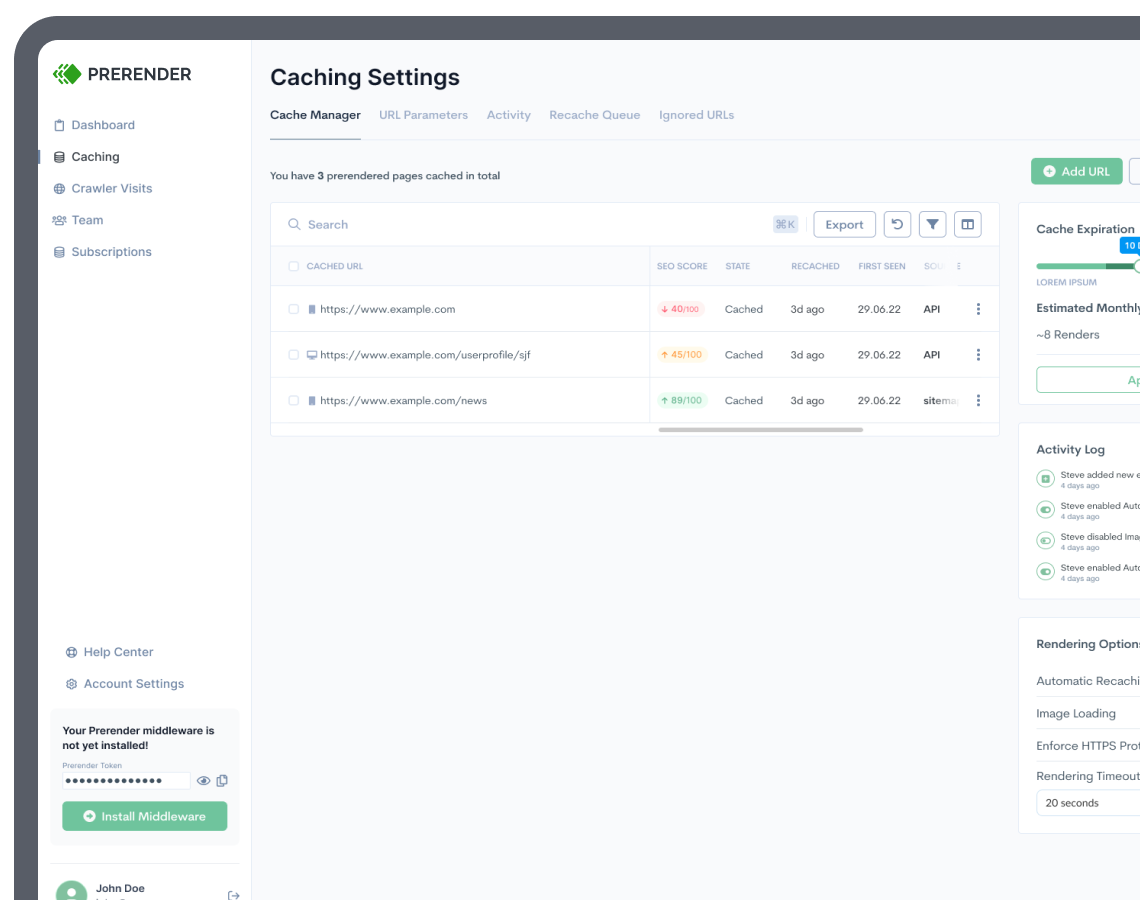 We Help Clients Everywhere in the World!
Prerender currently serves 2.7 billion web pages to crawlers.
Trusted by 65K developers and marketers across the globe.
Nicer User Experience FAQs